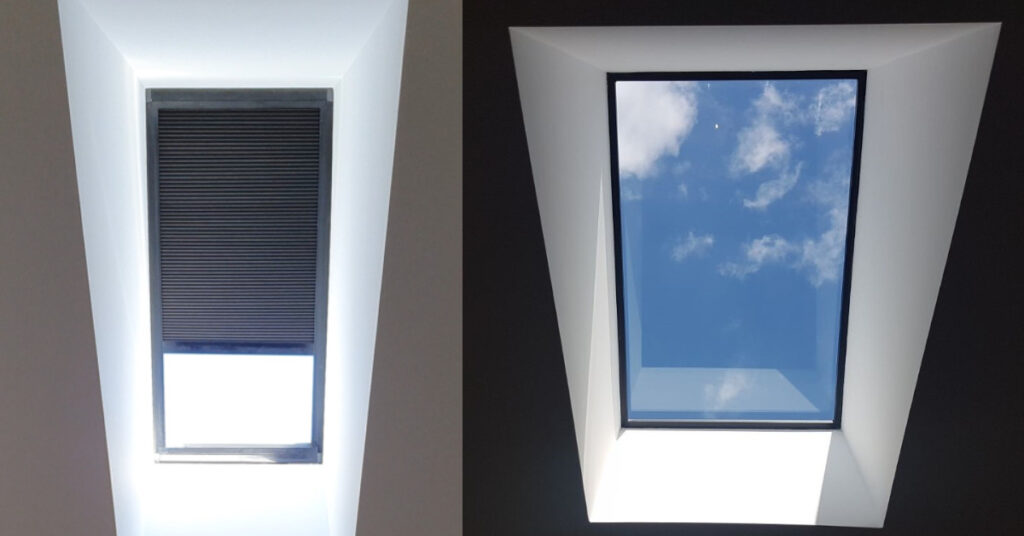 What Is A Skylight?
A skylight is a window  that is installed on the roof  of a building instead of on a wall. Skylights installed on residential houses fall under three categories:
Ventilating Skylights: These are the ones that open, letting warm air inside the house out during the summer, while allowing cooler air to be drawn in through the windows. It's basically a "roof window" and usually comes in a wide variety of styles, which can be opened manually or electronically (with a remote). These skylights best suit kitchens or bathrooms as they help remove excess moisture and keep a steady flow of air.
Fixed Skylights: These are the most popular types of skylight. Fixed skylights do not open and are great if you just want to add extra natural light in your space. Perfect on areas that are hard to access such as stairwells, attics, and hallways.
Tubular Skylights: These are the new kids on the block. Also known as "sun pipes" or "light tubes," these are domed, pint-sized skylights paired with a reflective metal tube. Typically installed in hallways, closets, and rooms, tubular skylights often come with added features like an integrated ventilation fan or a dimmer switch (allows users to control the amount of daylight that comes in).
Skylight Design Ideas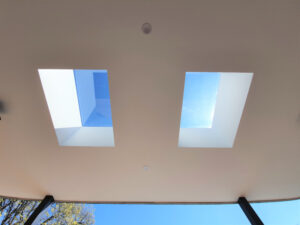 There are many reasons why you should invest in skylights – from the gorgeous natural light effect it provides to the architectural beauty it presents. The fun part is the wide variety of skylight design ideas you can choose from, depending on your budget, design preferences, and lifestyle needs. Below are some examples you might want to take a look at and install in your homes.
Double Skylight: If you need a huge amount of light for work purposes, bright overhead lights will work. Imagine cooking under the bright lights of the sun. Skylights really help brighten and open up any space.
Pitched Skylight: Mudrooms, gardening spaces, and mostly any type of space that's in between indoors and out is a perfect spot for skylights: A pyramid design skylight is an eye-catching layout perfect for that transition effect from day to night.
Modern Skylight: Combining floor to ceiling windows and steel glass doors with skylights give off a modern and minimalist approach to the interiors.
Sloped Skylight: Angular skylights go well with geometric themes and make for a fun bedroom idea. This skylight design idea makes it look intentional and synchronized with the overall theme of the room.
Skylight Design Considerations
There is no doubt skylights are fun and functional additions to your homes. The natural light and architectural intrigue that it adds to the overall look and feel of your house are good enough reasons to have one installed. But before incorporating it in your house, read below some skylight design considerations you need to factor in.
Skylight can cause glare: Some types of skylight can cause glare so make sure to choose the right type of skylight to minimise the risk of glare from the sun. Go for skylights that offer add-ons such as skylight blinds so you can control the amount of natural light that gets in your house.
Don't scrimp on quality: Since skylights will be part of your roof, which protects you and your home from natural hazards, it's best to invest in high quality ones. Water tightness, sound reduction, and wind resistance are important skylight design considerations. Also look at additional options like UV coatings, ventilation, and shading.
Carefully choose skylight placement: This is largely determined by the placement of your rafters. Make sure to plan accordingly and keep a blueprint handy before cutting part of your roof.
Automatic skylights may be your best option: If your budget permits, opt for skylights with remote control. This type of skylight can open if it's too humid so you can let out hot air and can close if it's raining.
Skylight Roofing with Vivid Skylights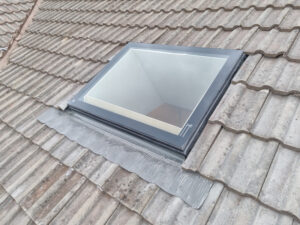 Brighten your home and enjoy the view of the sky with skylights. Consider skylight roofing with Vivid skylights to help you transform dull areas of your home into inviting spaces. They offer strong and durable frames that are easy to install and offer a 5 year warranty on all their products. Their skylight roofing can be installed on low pitch roofs and have a strong aluminum frame with black powder coated finish.
Square Skylights by Vivid Skylights
Achieving that natural light and breezy effect in your home can now be realized with skylights. Square skylights are easy to install and can be done into existing roofs. Revamp your dark hallways and poorly ventilated rooms with square skylights by Vivid Skylights. They offer premium quality standard sized skylights that can be installed in most residential properties.
What Is A Skylight Diffuser?
As mentioned above, skylights can cause harsh glare from the sun and skylight diffuser panels are used to diffuse the natural light that comes into your home. It's made from acrylic polycarbonate materials, and comes in different styles to seamlessly blend with the design of your interior.
What Is A Skylight Window?
Rooftop windows or skylight windows can increase the overall value of your home by transforming dark and stuffy parts of your house into a warm and cozy area where people actually want to stay. Letting in fresh air and having proper ventilation is essential in making your house feel like home.
What Is A Skylight Frame?
As soon as you have chosen the type of skylight you like, you must then consider the material you want to use for the frame. Some of the most popular frames are made from strong aluminum frames. You can also opt for frameless glass finish internally to match the interiors of your house.
Skylight Installation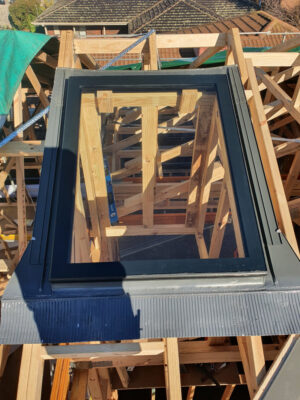 Since skylights are part of your roofing, it's important to seek help from a professional to install your skylights to ensure that they are properly and securely installed. Although there are instructions that come with skylight kits, it's still best to hire an expert since there are a lot of factors to consider such as placement, slope, and waterproof flashing.
Skylight Installer
Once you've decided to incorporate skylights in your home, make sure to hire a skylight installer who has an extensive background in skylight installation to ensure that they know how to follow the manufacturer's installation instructions. With some research, you'll be able to find a great local contractor to help you with the installation.
Check Vivid Skylights out for easy to install and highly durable skylights. Their skylights are perfect for both pitched tiled and corrugated iron roofs that come with an easy to install flashing kit.