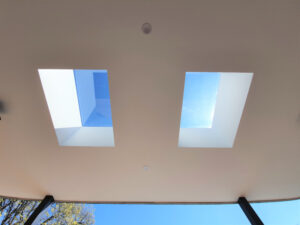 Skylights are fantastic additions to your home. They offer an abundant amount of natural light and help elevate the aesthetic appeal of the interiors of your home. Skylights have come a long way – from plastic skylights to laminated glass skylights, these roof windows have evolved to fit modern-day living.
Not all skylights are created equal. And since they are installed on your roof, it's crucial to choose highly durable skylight products from credible skylight manufacturers to avoid water leaks and other roof-related problems. Vivid Skylights are a supplier of premium, quality skylights. We cater to the entire south east Melbourne region.
Before purchasing skylights, it's best to know more about the different types of skylight products and what types of material you should look for before buying. Take a look at various skylight products available in the Vivid Skylights store and feel free to contact us with questions. We'll be happy to help you make an informed choice.
Skylight Manufacturers
Vivid Skylights is one of the trusted suppliers of a wide range of premium standard-sized skylights that suit most residential homes. Our skylights are made from 5mm laminated glass panes for added safety (if the glass breaks, it'll hold together).
Like any trusted skylight manufacturer in Melbourne – as a premium supplier, we offer a warranty on all our products and wholesale direct to the public. Vivid Skylights are available in various sizes, with more sizes to be added soon.
Comparable to other skylight manufacturers in Melbourne, our skylights have durable frames with a black powder-coated finish. They are suitable for both pitched tiled and corrugated metal roofs, with easy to install flashing kits included for roof installation.
Where to Buy Skylights in Melbourne?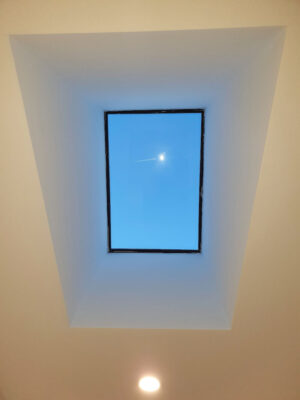 There are many skylight manufacturers and suppliers in Melbourne. However, not all suppliers are equal. Vivid skylights supply superior quality skylights – in both fixed and operable models. We also carry skylight blinds as optional add-ons.
Vivid Skylights are Skylight Suppliers for Melbourne
Vivid Skylights is one of the trusted skylight suppliers in Melbourne. Our skylights come with an easy to follow step-by-step installation guide that any handyman with some experience in basic carpentry can follow.
What's the Difference Between Roof Windows and Skylights?
Roof windows are another term for skylights, specifically operable skylights. They are also often called venting skylights since they serve the same function as traditional windows – you can open them to allow air to circulate through the house.
Operable skylights make great roof windows. They're a great alternative if traditional windows are not feasible or if you want to have more privacy and more natural light to enter your home. Roof windows are ideal for loft-style homes, the kitchen and bathrooms.
What Is the Cost of a Typical Skylight Installation?
At first glance, the cost of skylight installation seems expensive, but the number of benefits you get out of installing them makes the price worth it. Several factors affect the overall cost of installing a skylight, including:
Type of skylight: Operable skylights are more expensive than fixed skylights. When choosing a skylight, identify first where you want to place it, so you can decide whether you need an operable skylight or a fixed skylight would do just fine.
Labour cost: Since installing skylights requires cutting into parts of your roof and ceiling, hiring an experienced carpenter is preferred to ensure that no other parts of your roof will get damaged during the installation process – and that the skylights will be installed properly to avoid leaks and other problems such as loss of insulation and mould build-up due to condensation.
Roof type: Skylights can fit most types of roofs, but custom flashing is required on low pitched roofs.
Add-ons: Apart from the basics, you have the option to add accessories such as skylight blinds, which help control the amount of light you want to come into your home and block off the intense heat from the sun. It's an optional cost but is very beneficial for your family's comfort and privacy.
The Cost of a Skylight vs the Benefits
The cost of a skylight varies, and although it may seem like an expensive feature, the benefits you get will justify the price in the long run. With skylights, you can enjoy:
An abundant amount of natural light: One of the biggest and most sought after benefits of skylights is the amount of natural light they bring into your space. A well-lit room instantly uplifts our mood and gives us the energy to start our day.
Fresh air: Operable skylights provide the additional benefit of letting air circulate in your living space, allowing the stale air out to give way to fresher air.
Reduce energy consumption: Since you don't need to rely much on artificial light and a cooling/heating system (if you have an operable skylight), it will help lower your electric consumption, saving you the money you spend paying the electric bill.
Aesthetic appeal: Skylights add aesthetic appeal to the interior of your home. They can be easily integrated into any style of home and help enhance and complement the design of your home while also helping increase the resale value of your property.
What Skylight Sizes does Vivid Skylights Offer?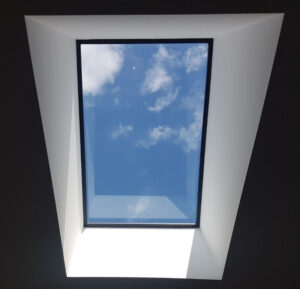 Vivid Skylights offer four standard skylight sizes for both fixed and operable variation:
650 x 1200 mm
650 x 900 mm
950 x 1200 mm
950 x 950 mm
Types of Skylights
There are two main types of skylights – fixed skylights and operable skylights. Both are square skylights that can be fitted to most types of roofs.
Fixed skylights are one of the most popular types of skylights, and as the name suggests, they can't be opened and are fixed to the roof.
Operable skylights or ventilated skylights offer both natural light and ventilation. These are ideal for the kitchen and bathrooms, where stale air builds up.
When choosing a skylight – opt for glass skylights since they are more durable and scratch proof than plastic skylights. Although glass skylights are more expensive, they are a safer choice and wise investment.
What Are the Pros and Cons of Fixed Skylights?
Some of the pros of fixed skylights are:
Providing natural light and solar heat to your home.
Safe and secure since there are no movable parts.
Aesthetically pleasing.
The cons:
A skylight that's not properly installed will cause damage to your roof.
They don't provide ventilation since they can't be opened.
Electric Opening Ventilating Skylights
Electric opening ventilating skylights are operable skylights that can be opened using a remote control. These types of ventilating skylights are very convenient and perfect for areas where you need air to circulate, but the roof is hard to access.
The Advantages of Operable Skylights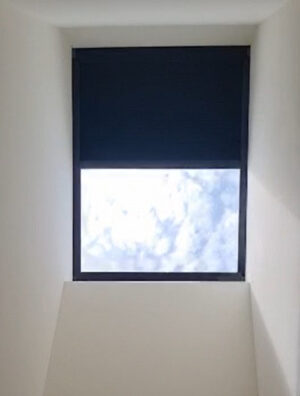 Operable skylights offer the same benefits as fixed skylights but with the added benefit of ventilation. Since they can be opened according to your will, you can enjoy the cool breeze of the air when it gets hot and allow hot air to come out to keep the room breezy.
Vivid Skylights supply remote controlled operable skylights in four standard sizes. All our skylights come with a flashing kit and easy to follow installation guide.
Consider Vivid Skylights for Glass Skylight Manufacturers
If you're looking for glass skylight manufacturers in Melbourne, try checking out Vivid Skylights. We supply premium quality glass skylights made from 5mm laminated glass panes that can be installed to have a frame or frameless glass finish internally.
Custom Skylight Manufacturers in Melbourne
Skylights are highly versatile, so there's no need to look for custom skylight manufacturers. They are highly versatile in that they can be fitted with any house design.
Vivid Skylights is a Skylight Supplier for Melbourne
If you're wondering – are there any skylight manufacturers near me? You may check Vivid Skylights out. We are a leading skylight supplier in Melbourne that offers a wide range of premium quality skylights and accessories.
To learn more about skylights and how you can incorporate them into your home visit our store and feel free contact us with any questions you may have.