Shed Skylight Installation & Price Guide by Vivid Skylights
A skylight may seem like a luxury that's only worth getting for your home. But your shed also needs abundant natural light and proper ventilation especially if you spend a lot of time in there. Most sheds don't have electrical wiring for electricity, which means a trip to your shed might involve working in the dark or with a small lamp.
A shed skylight can give your shed lots of natural light, making your shed brighter and easier to maneuver in. And the best part is that you don't need to spend a lot of time and money to perform this simple renovation.
Vivid Skylights will help you transform your shed into more than just a storage room. A skylight can dramatically change your shed into a more inviting space, helping you fully utilise its purpose. Due to its positioning, a skylight draws more sunlight for a longer period of time compared to a standard window, making it a more suitable choice for your shed.
The Benefits of Installing Shed Skylights?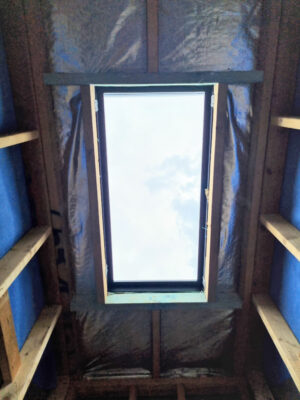 Sheds come in different shapes and sizes and serve different purposes as well. Nevertheless, no matter what purpose your shed serves you, one thing is for sure – it could use some shed skylights. Below are some of the reasons why you need to install shed skylights:
Abundant amount of natural light: We can't say this enough – the best thing about skylights is the additional natural light they bring to any space. This extra light will make your life so much easier and will help you get more things done (if you use your shed as a workstation) without using too much electricity.
Save electricity: Since there's so much more light that comes in naturally, you'll also save on electricity cost because you won't have to turn the lights on as much. Sheds tend to require a lot of electricity so installing a skylight is a practical and economical choice. Even during night time, you might not need a lot of artificial light since the light coming from the stars will help illuminate the shed.
Environmentally-friendly: If you're concerned about the environment, then installing shed skylights is one way to reduce your carbon footprint. Skylights help bring down your energy consumption since you don't need that much electricity in the shed.
Improved ventilation: If your shed has been in the dark all this time, chances are there are molds and mildew buildup in there. This is a result of the lack of airflow and natural light. Don't let your shed be a breeding ground of fungi; install shed skylights now.
Let stale air out: You may not realise this but your shed can be filled with fumes from your last project, which can be harmful for your health. Openable skylights can quickly dissipate stale air, bringing in fresh air to cool the space.
Lift mood: Research shows that natural light helps improve mental well-being and increase productivity. Natural light also helps reduce stress level and lift one's mood. It also helps with brain functions so it creates an overall positive effect. This is important especially if you use your shed as your workstation.
Prevent illnesses: If your shed lacks access to sunlight, it can be a breeding ground for various kinds of diseases. Installing a shed skylight will kill these bacteria with the help of sunlight. Natural light also reduces signs of anxiety and depression.
Improve the overall aesthetic of your shed: Though sheds normally serve as storage room for home and garden tools or workstations for various do-it-yourself home projects, it wouldn't hurt to make it look pleasing to the eyes. A shed skylight will definitely elevate the shed interior. It can serve as a motivation to work on that long-time project of yours or to keep your shed clean and orderly at all times.
Lots of design options: Another advantage of skylights is the wide variety of design options you can choose from – depending on the size, angle,shape, and location, skylights can be pretty flexible. A shed skylight can be designed to seize the early morning sunlight to help bring some heat into your shed, but at the same time misses the blinding afternoon sun that can make the room feel too hot.
Elevate your shed design: Your shed does not need to look shabby or dingy. A skylight can help dramatically enhance the design of a grim looking shed. If you want, you can also make the skylight the main design piece in your shed that ties everything up nicely. Skylights are usually installed in areas that need more natural light but they can also add gorgeous lighting effects to help elevate any space, all without using electricity.
Installing a shed skylight truly has lots of benefits that makes it a perfect addition to your shed. The main benefit that needs to be highlighted though is the energy saving advantage it provides. This is huge especially during the summer months when it gets extra hot and you really need that additional ventilation or during the winter months when the days are short, and so is the amount of sunlight you can get.
Hit multiple birds with one stone. The amount of electricity you consume decreases whether it's the summer or winter months, and you get to enjoy a nice cool breeze and a beautiful view of the sky as you spend some time in your shed.
What Kind of Skylight is Best for a Shed?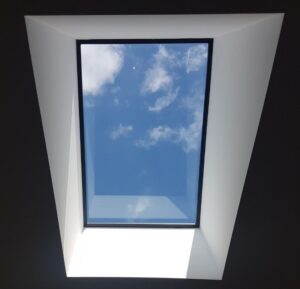 Although there are a wide variety of skylight designs available as well as customisation options, no matter which design of skylight shed you choose, it falls under these three categories:
Fixed skylight: As the name suggests, this type of skylight is fixed and can't be opened. It can be made of glass or plastic and can be clear or tinted. This type of skylight is a popular choice for use in homes since most people just want the extra daylight and don't want the hassle of opening and closing their skylights.
Ventilating skylight: This type of skylight is perfect to use in a shed since it can be opened to let air circulate around the space. They are available in manual and automatic versions. The automatic version comes with either a motion sensor or remote control for your convenience.
What Kind of Skylight is Not Suitable for a Shed?
Tubular skylight: Most sheds do not have a ceiling, so tubular skylights are best suited for homes or even businesses. The design of tubular skylight provides a beam of light that is focused only on a specific part of the house instead of being spread out over the entire space. Tubular skylights usually contain a smaller round shaped skylight that is seated on the roof's exterior. A tube is attached to the skylight that travels from the roof down over the attic and then goes through the ceiling.
Plastic Skylight Vs Laminated Glass Skylight For a Shed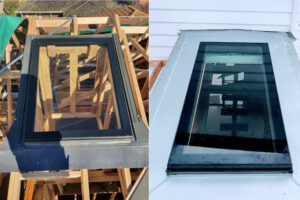 Plastic skylights were the standard skylight during the 80s, so they've been around for quite some time now. If you want a plastic skylight for shed use, the advantages are it's lightweight, low cost, and available in a wide variety of shapes.
Although plastic is more budget-friendly than laminated glass, the disadvantages of installing one include; you do not have a clear view of the sky, scratches easily compared to laminated glass, easily gets discolored, and more UV light tends to get through a plastic skylight.
A lot of people prefer laminated glass for skylights since they look more elegant, come in various sizes, provide better UV protection, and offer a clear view of the sky. But the most important reason why most people prefer laminated glass skylight for their shed is because of its durability. One pane of laminated glass is composed of two panes of glass that are plastered to both sides of a panel of acrylic.
Vivid skylights use 10mm laminated glass and have 5mm laminated glass panes for added protection. This means that if the glass breaks, it will hold together and not shatter into pieces, which can be dangerous, especially if not all glass shards are cleaned up.
Where can I Buy a Skylight For a Shed?
If you're looking to invest in a skylight for a shed, Vivid Skylights are local experts in supplying premium standard sized skylights. We offer a wide variety of standard sized roof windows that can suit most residential homes.
We offer both fixed and electric opening skylights in four standard sizes but more sizes will be available soon. Our openable skylights come with a pre-installed electric motor and remote so you have control over the amount of ventilation you want for your shed.
If you choose to have a fixed skylight for your shed, we have electric blinds available, which can be fitted to both the fixed and electric opening range of Vivid skylights. The skylight blinds come with a pre-installed electric motor and remote so you can control the amount of natural light that enters your shed.
Our skylights have a strong aluminum frame with black powder coated finish and can be installed to have a frame or frameless glass finish inside. One of the key features of Vivid skylight is its frameless top, which prevents water pooling on the bottom edges in low pitch roof applications. Both our fixed and operable skylights suit applications on either pitched tiled or corrugated iron roofs. We offer a 5-year warranty on all our products.
Easy Shed Skylight Installation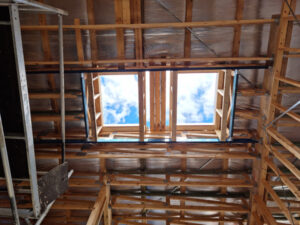 Installing a skylight can be a daunting and intimidating task and if not carried out properly, can cause problems. If you're installing a shed skylight yourself, please make sure that you have an in-depth knowledge of carpentry, otherwise hire a competent tradesman to do the job for you.
That being said, Vivid skylights provide an easy shed skylight installation guide to ensure that your shed skylight is installed properly. Here are some key points to remember when installing a skylight:
Frame the opening of the roof based on the size of the skylight. Refer to our easy shed skylight installation guide for the specific size of frame opening needed for your Vivid skylight.
The skylight must be supported by roofing rafters. Trim out all four sides of the skylight if needed. Make sure that the opening on each corner is square shaped.
Vivid skylights come with a flashing kit suitable for both tiled and metal roof cladding. If you have a flat roof, you will need a custom flashing, which we do not supply. Custom flashing needs to be installed by a registered plumber.
Skylights are designed to be installed at a recommended minimum of 3 – 60 degrees.
If the structural parts of your roof need to be adjusted to suit the required opening size, please consult a structural engineer before altering the frame opening.