What Are Ceiling Windows?
Ceiling windows are basically like a standard window mounted on the ceiling. They serve multiple functions, but the main benefit is to provide an abundant amount of natural light into a space to liven it up and make it look more spacious.
Well placed ceiling windows are a great addition to any home because they're not only functional, but also aesthetically pleasing and can greatly complement the overall theme of your home.
What's the Difference Between Ceiling Windows and Skylights?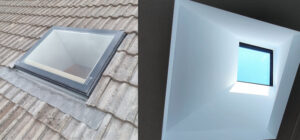 Ceiling windows, skylights, and roof windows are one and the same. These are just the common names referring to ceiling windows. Vivid Skylights offer premium quality skylights in four standard sizes.
There are many benefits that you can get from installing ceiling windows including:
Reduced electricity bill: Skylights provide natural light and ventilation so you don't need to use artificial light and a cooling system that much.
Good for your health and boost your mood: There are many studies that support the good effects of sunlight to health, specifically the vitamin D it provides. Having a brighter home also helps lift our mood, making us more energized and productive.
Privacy: With strategically installed ceiling windows, you can enjoy the cool breeze of air and natural light without having to sacrifice your privacy.
What's the Difference Between High Ceiling Windows and Skylights?
High ceiling windows are also another term for skylights. Windows installed in the ceiling are often referred to as skylights. High ceilings are a great place to install ceiling windows as it gives an illusion of having a bigger space and also lets air circulate more. They are perfect for a modern minimalist themed house.
How Are Raked Ceiling Windows Different from Ceiling Windows?
Raked ceiling, also known as vaulted ceiling, is an incline type of ceiling, wherein the roofline is pointed upwards and merges at one point. Unlike a flat ceiling, a raked ceiling takes advantage of the space above and gives that added height to any space.
Raked ceiling windows help to bring more light into a living space and can make a room look bigger. Adding a ceiling window to a room will also help to brighten the space. Raked ceiling windows also provide twice the benefit of having great air circulation if you get an openable ceiling window.
What is a Sky Light Window?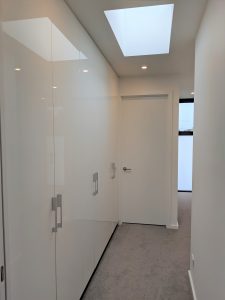 A sky light window is a ceiling window that provides generous amounts of natural light into your home and also a functional design piece that gives a number of benefits. There are many ways you can incorporate a sky light window into your house:
Sky light windows in the bathroom make the space bathe in sunlight. It's the easiest way to make a small bathroom feel less cramped and stuffy.
If you want an industrial looking kitchen, ceiling windows with exposed bricks offer a great architectural effect. Sunlight with wooden beams can also add to aesthetics..
Hallway skylights are an interesting concept, especially if you have a nice garden view outside. It merges the inside with the outside, making the space more connected.
Is a Skylight Window the Same Thing as a Fixed Skylight?
A fixed skylight is a type of skylight window. Skylight windows vary in shape, size and material. There are standard sizes and then there are customizable ones. But no matter what skylight you choose, they fall under these three categories:
Fixed skylight:  as the name implies, this type of skylight window can't be opened. It is permanently fixed to your ceiling and cannot be opened. Fixed skylights are great for areas in your home where you don't need that much ventilation and simply want more natural light to enter the space.
Ventilated skylight: This type of skylight can be opened either manually or via a remote. They're perfect for areas in your house where you need more air circulation such as the bathroom and the kitchen.
Tubular skylight: This is the newest kid on the block. It captures sunlight on the roof then reflects it down and passes through a tube into an attachment in the ceiling. They allow you to control the amount of sunlight and can serve as a spotlight as they concentrate the sunlight to one specific area only.
Vivid Skylights offer both fixed and ventilated skylights for all your ceiling window needs. Our ceiling windows are made from high quality laminated glass which is much safer than other materials. Contact us now and let's get started on your ceiling window project.