Skylight Ideas with Vivid Skylights
There are many reasons to install a skylight such as adding warmth, passive solar, passive lighting, charm, ambience and architectural creativity. Skylights also add to the value of your home or business location with very little investment required.
Before investing in a skylight it is a good idea to explore the options available. A skylight offers more to property than just letting in more light. Factors such as heating and cooling, passive solar benefits, ambient light, position and tracking of the sun, local climate and even the seasons should also be taken into account.
Choosing skylights that take advantage of the architecture of your building,sun exposure, as well as creating the internal ambiance that you need to achieve can be challenging. Vivid Skylights can help you transform your space in ways you might not imagine with both classic and innovative skylight ideas to get the effect you desire. A journey to a modern skylight enhancing a contemporary or even an older building starts with an idea: a Vivid Skylight idea.
The Basics of Skylight Design for Your Home or Business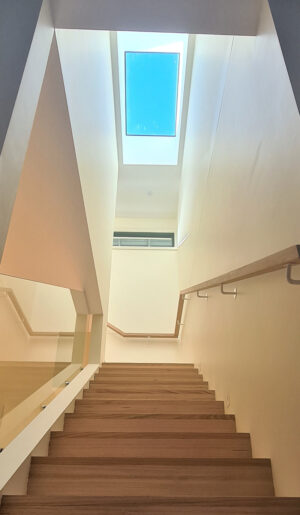 Skylight design can turn a dark, drab and dreary property into a glorious showpiece. A cleverly installed skylight can highlight and accentuate interior design and help to set off unique architectural assets.
One key priority to good skylight design implementation is that skylights need to be oriented properly not only for the building structure but to take advantage of light. Skylights do a lot more than simply provide additional light to a room. Skylights should be integrated with the building structure and design as well as creating the light within to its optimal use.
When installing a skylight, bigger is not always better. It all depends on the room and how much light you want to let in. Do you want to add ambience and charm? Or do you want to light up a workspace? How much sun does the space you want to install a skylight over get?
You also need to be careful of unwanted heat. A skylight can create a greenhouse effect which may not be appealing or suitable for your purposes. Skylights can offer passive cooling, using the evening clear sky radiant cooling effect. Taking these factors into consideration are important, as well as the overall purpose and function of the skylight.
Looking For Skylight Creative Ideas?
There are many skylight creative ideas. The concept of the skylight has been around since Ancient Rome. One of the most famous was the architectural wonder of the Oculus of the Pantheon. Glazed or closed skylights, which are what we now consider skylights, were created during the Industrial Revolution, but mass production wasn't around until the mid-20th century. Currently, there are many unique applications and innovations in the skylight industry in relation to placement, function and design. These skylights imbue a home with light and contribute to energy conservation. The green movement has brought new design innovation, transmission options, and efficiency rating systems for skylights.
There are Three Kinds of Skylights that you can use: Fixed, Vented, and Tubular. The first thing to consider is the type of skylight you will need and what its function will be in your space. The most common are fixed skylights and vented skylights, which are relatively similar. A fixed skylight can be seen as a window that is permanently in place. Vented skylights have the advantage of being able to be opened and closed, either manually, or by remote. A vented skylight gives the ability to create airflow and cooling when needed.
Tubular skylights offer a somewhat different skylight experience. Tubular skylights capture sunlight on the roof and reflect it down a tube into a fixture in the ceiling. Thus, it brightens an area below. Tubular can often be a great option for living rooms, kitchens, closets, and bathrooms and other small spaces or in homes with a smaller roofline, or different stories.
Skylight Ideas For Living Rooms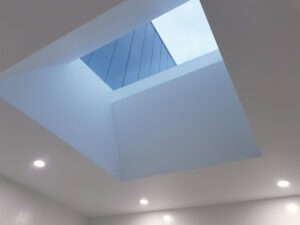 When considering skylight ideas for living rooms, you need to have an idea of how you want your space to look. Since often you'll spend a lot of time in this highly functional room, placement and amount of light are a huge consideration.
One common method of skylight placement is to have a rooftop skylight located in the middle of the room, much like the ancient structures of Rome. This has great appeal as it becomes the focal point of attraction. Most of the living room furniture is arranged around this skylight, sometimes with a centerpiece like a low table or merely an open space. This kind of skylight arrangement lets in a beam of natural light.
Another arrangement is appealing but has some disadvantages. A panel of skylights across the ceiling of the living room gives the effect of having no roof above. The sun pours in and then in the evening the stars shine bright. However, the heat during the summer could become quite intense.
Skylight on a vaulted ceiling or sometimes known as roof lights can add to the decor of your living room. Skylights framed in such a way that seems to slant both ways across the roofline are dramatic and have a greenhouse feel to the space. This design suits such homes that experience lots of snow or rain by preventing condensation of water, by allowing the water to flow away from the home.
Skylight Ideas for the Kitchen
Few things are more delightful than exploring skylight ideas for your kitchen. Kitchens have become all-important and not just places to prep meals but they also function as living spaces for chats and catching up with family and friends. Placing a skylight over an island can create a dramatic effect that aids prepping and is also a focal point.
Consider a vented skylight for air flow, which can give a space design advantages like bringing fresh air into the kitchen. Skylight ideas kitchen also can enhance a kitchen and make possible the ability to grow herbs in the beam of light.
One advantage of a skylight in a kitchen is that it will not only brighten the space, but it will make it seem much larger and more inviting. Lighting in a kitchen is vital as this is where we work with sharp knives and hot appliances. The best lighting possible is crucial for safety, and what better light than natural light?
Awesome Skylight Design Ideas that Add Character
A grid pattern skylight arrangement creates a pattern of light. This skylight arrangement looks sophisticated and modern and works well with a contemporary home, but needs to be carefully crafted and designed for the effect of the alternating light patterns inside the room.
A dramatic skylight idea is known as the side room skylight. It is a skylight that is placed on the periphery of the room given a focal point and the option of light without a beam in the center that commands and dominates the room. This unusual placement can help highlight showpieces that are arranged to take advantage of the light and draw the eye. This can help create the illusion of a larger space if done with care.
Skylight Lighting Ideas for Homes and Businesses
There are many skylight lighting ideas for both homes and businesses. Both take advantage of the uplifting and mood enhancement of natural light to the occupants.
At home, skylights can flood various spaces with light and warmth. Choose the rooms you use the most to take advantage of this element.
In business, a break room filled with plants, tables, and natural light can transport a beleaguered employee to a natural space and recharge them, so they can work more efficiently.
How To Replace A Skylight Window with Vivid Skylights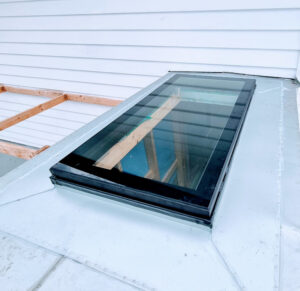 When considering how to replace a skylight window with Vivid Skylights, a number of factors should be taken into account. When carefully removing the old skylight, which may be damaged or dull with time you should make sure that the work can be done safely and that you've taken all the appropriate measurements. Structural integrity and positioning should also be considered.
The skylight placement is determined mainly by the placement of rafters and beams. The position of electrical wiring should also be considered. Although an existing skylight may be smaller, it might not be a good idea to try to create a larger space. If you want to achieve more lighting, you might consider two or more skylights, strategically placed rather than one large skylight.
For questions, concerns or advice, feel free to contact us at Vivid Skylights. We have years of experience installing skylights into homes and businesses. For concerns about size, placement or structural integrity you should speak to a professional. Have you considered how the home will be heated and cooled by your skylight arrangement? These are all skylight creative ideas that can be answered by Vivid Skylights.