Bathroom Skylights Melbourne
Installing skylights in your bathroom may be one of the best things you can do for your home. There are a lot of advantages when it comes to bathroom skylights such as enhanced ventilation, abundant amount of natural light, and minimising mould and condensation growth.
Not to mention the increase in the resale value of your house when you install skylights.
Aside from the attributes mentioned above, another great benefit of skylights is the fact that they're energy-saving, since you won't need a lot of artificial light anymore especially during the daytime.
Bathroom skylights in Melbourne homes are becoming more and more popular, specifically among modern houses, so it wouldn't be that hard to find a skylight supplier near you. Check out Vivid skylights for more information.
Brighten Your Bathroom with Skylights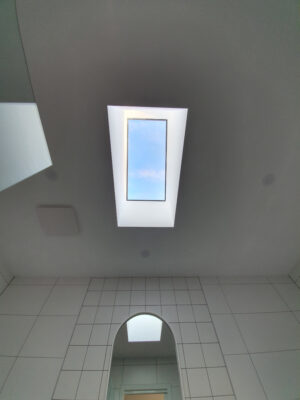 Almost all bathrooms can benefit from skylights. Bathrooms in general, especially those in older houses, can be found in the farthest corners of the house. The result is typically dark and grimy bathrooms.
Natural light is really important for any bathroom. We spend a lot of time in the bathroom doing our business and getting ready for the day, so it's just befitting to give it a little more ray of sunshine. Studies suggest that natural light helps uplift and reinforce positive sentiments.
The bright light that comes from artificial light can be too much at times, especially for those with sensitive eyes. In contrast, natural light can help highlight the beauty of your bathroom interior.
Bathroom skylights are not only useful during daytime but can also be a luxurious experience at night with the light coming from the moon and the stars that you can enjoy as you take a nice hot shower.
What Are The Best Skylights?
Now that you know the benefits of installing skylights, the next question that needs to be answered is – what are the best skylights? There are several types of skylights available on the market but generally speaking, skylights are categorized into two types – fixed and openable.
Fixed skylight is the most basic type of skylight. As the name suggests, it's fixed meaning it cannot be opened. That's not always a bad thing since you don't run the risk of accidentally leaving your skylight open, so there's zero chance of flooding your bathroom when it rains.
Operable skylight or venting skylight can be opened using a remote or a motion sensor. When opened, vented skylights can bring in more natural light and fresh air and at the same time allow excess moisture in your bathroom and kitchen to escape.
Skylights can be made from plastic or glass and can offer a number of features such as UV blocking elements, insulated glazing, louvers, and blinds. They come in standard sizes but you can order a customized version that suits your preference.
In general, glass skylights are preferred because they look elegant and add beauty to the overall look of your home. They also provide a clearer view, do not scratch easily, and come in a number of types and sizes.
Bathroom Skylights for Houses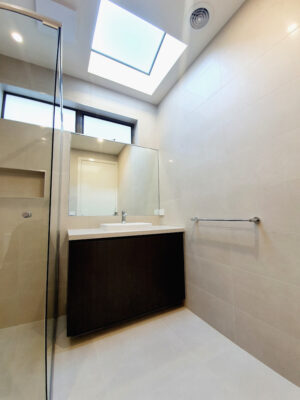 Skylights are a game changer. Bathroom skylights for houses are the modern way of designing bathrooms and changing the overall vibe of it. Skylights set the tone for any room in the house and give off an inviting and energizing feel to it.
There are many ways on how you can incorporate skylights in your bathroom. The size of bathroom skylights you need depends on several factors such as the type of roof construction you have, size of your bathroom, and the ways you want to utilise the skylights.
Installing several smaller skylights is the way to go if you want to have multiple skylights in your bathroom without the need for any major structural changes in your roof. Smaller skylights are also perfect for narrow shower cubicles.
Below are some of the creative ways you can use skylights in your bathroom.
Large skylight: If you prefer a bathroom bathed with natural light, opt for a large skylight. Bigger bathrooms with huge windows or glazed doors can still use skylights to improve the layout of their interior.
Double skylights: Double skylights are a classic design idea if you have a pitched roof.
Textured skylights: If you want to add more texture to your bathroom interior, skylights can help you emphasize the design of your bathroom. Whether it's white ceramic tiling or painted brickwoods, there's nothing an ample amount of natural light can't elevate.
Bathrooms with no windows: For houses where you can't fit a conventional window in, skylights mounted in the eaves of the room is the perfect solution. Opt for white decors so that the natural light is reflected around the bathroom.
Smaller skylights: Skylights don't need to be imposing in order for it to have an immense visual impact. If you can't install a skylight that covers the full length of the bathtub, opt for one that covers just half of it.
Lantern style: Lantern designed skylights are a popular choice for family rooms and kitchens, but also works well in bathrooms. Unlike traditional skylights, lanterns ultimately open up the roof space above, so it's important that you strategically install these to protect your privacy.
Installing Skylights Into Your Bathroom with Vivid Skylights
Now that you understand the advantages of installing bathroom skylights, the next crucial thing you need to do is to invest in top quality skylights like Vivid skylights. After all, skylights are extensions of your roof so you need to ensure that you choose one that will not cause water to leak and will not break in the harshest of weather conditions.
The tops of our skylights are frameless, which stop the water pooling on the bottom edges in low pitch roof applications. Furthermore, our skylights have a strong aluminum frame with black powder coated finish and can be installed either to have a frame or frameless glass finish internally.
Installing skylights into your bathroom with Vivid skylights is easy. Our skylights suit applications of both tiled and corrugated iron roofs and come with easy to install flashing kits. Message us now so we can provide you with recommendations and help you achieve the bathroom skylights of your dreams.