Nothing beats the feeling of warmth you get from the beautiful sunlight in the morning. It instantly uplifts your mood and inspires you throughout the day. But most of us don't have the time or simply don't want to go out to get the daily dose of vitamin D from the sun.
So why not bring the sunlight into your home? Enjoy your time lounging around under the bright morning sun in your living room with skylights. Combine huge windows with living room skylights, and you get an airy and bright living room that will perfectly highlight the interior of your home.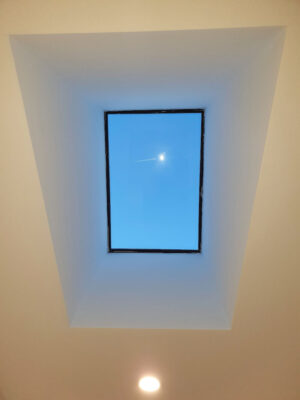 The versatility of skylights provides you with the creative freedom on how you will incorporate them in your living room design. Whether you have a modern living room with floor to ceiling windows or a vintage home with rustic interiors, adding skylights will help elevate the overall look of your living space.
There are a hundred and one ways to integrate skylights in your living room – not to mention all the benefits they offer, making skylights an excellent investment. We will give you a few living room skylights ideas to inspire you to install one in your living room.
Why Install Living Room Skylights?
As the central space in your home where you can entertain guests, your living room should feel inviting and comfortable. And nothing illuminates and makes a space cosy like the sunlight. Natural light can make any living space appear bigger, and at the same time, also affect our mood.
Here are some benefits of living room skylights:
Environmental-friendly: Since you won't need to use as much artificial light when you have living room skylights, you will also reduce your carbon footprint because your household will consume less energy.
Money-saver: Another reason why skylights are a perfect investment is that you save money in the long run because you won't need that much artificial light. And if you choose to get an operable skylight, you also won't need to use the AC or an electric fan that much.
Improve aesthetics: Skylights are so versatile that no matter what the interior design of your home is, you can easily integrate a skylight to fit the aesthetics you want to achieve.
Inspirational Living Room Skylight Ideas
There are a wide variety of ways you can alter the design of your home to fit living room skylights. Depending on what you want to achieve, there are different living room skylight ideas to choose from that can elevate your living room design.
Skylight Decorating Ideas for Inspiration
There are so many reasons why investing in skylights should be on the top of your priority list when designing new construction or undergoing a home renovation project. They present architectural intrigue and functional benefits that make the cost worth it.
Skylights are so flexible that there are hundreds of skylight decorating ideas you can choose from, depending on your lifestyle needs, budget, and aesthetic inclination.
Why Put Skylights In a Living Room?
Most of the time, when people design a home, they tend to focus more on decor, walls and the furniture. Installing skylights in the living room should also be prioritised as they will help transform this area into a bright, breezy, and luxurious space.
Skylights are a game-changer for small living rooms as they not only make an area appear more spacious, but they can also serve as a source of natural light where windows are not possible. Opt for operable skylights so that you also get the benefit of ventilation.
A small living room tends to feel cramped and suffocating, especially if there are not enough windows. Skylights help instantly brighten up the space and make even a small living room feel cosy and inviting.
The Benefits of Installing Skylights in a Small Living Room
Skylights in a small living room are tremendously beneficial since they allow you to maximise your space and:
Provide natural light and solar heat.
Enjoy the fresh air and better ventilation, making your living room a relaxing space to stay and unwind.
Improve the aesthetic appeal of your home, which adds to the resale value of your property.
Provide a nice view and create the illusion of more space in your small living room.
Advantages of Placing Skylights Over Your Lounge Area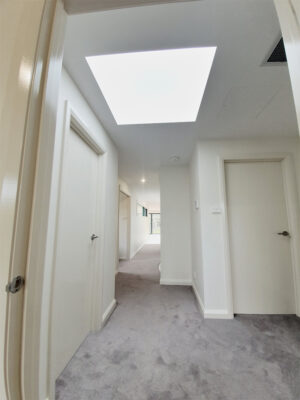 The lounge area needs to look inviting and give off a cosy and light ambience. One way of making this happen is by installing skylights in your lounge area. It is the most efficient way of ensuring that this area of your home is well lit and airy.
Artificial lights tend to be straining to our eyes and can make a room feel hot. While skylights provide an abundant amount of natural light that uplifts the mood and make it a relaxing place to stay.
Moreover, if you want to enjoy some private moments in your lounge area, skylights give you that benefit because the window is above. So unlike ordinary windows, skylights offer both natural light and privacy.
How Much Does it Cost to Install Skylights Into a Living Room
The cost of installing living room skylights vary depending on several factors such as the type of skylight (fixed skylights or operable skylights), the number of skylights you wish to install, and the material of the skylight – plastic is the most common one but laminated glass is more durable and safe.
Nevertheless, with all the added value skylights bring to your home, installing one is worth the price. Aside from the natural light and improved ventilation, skylights also increase the resale value of your property, help increase productivity, and overall improve one's mood that comes from constant exposure to natural light.
Skylight Designs for Residential Construction
The sky's the limit when it comes to skylight designs on residential properties. Placing a skylight over the centre of your living room provides an equal amount of natural light to your entire living area.
If you want a modern aesthetic, a ceiling completely adorned with skylights is also an excellent choice for your lounge area. Imagine the amount of natural light you will get and how spacious and light the space would feel. Adding skylight blinds is ideal for this design to block off the glaring heat of the mid-afternoon sun.
Where to Buy Living Room Ceiling Skylights
For living room ceiling skylights suppliers in Melbourne and the surrounding areas, check out Vivid Skylights. We carry premium skylights that can be installed in most residential homes.
Our skylights come in four standard sizes, but more sizes will be added soon. Made from 5mm laminated glass panes, our skylights are safe and will hold together if the glass breaks. The top of our skylights is frameless, which stops water pooling on the bottom areas of low pitched roofs.
We carry both fixed skylights and operable skylights as well as remote-controlled skylight blinds for added privacy and to control the amount of natural light that comes into your home.
Browse through our collection of skylights, and give us a call if you need assistance. We have been in the business for several years now, so we are knowledgeable and experienced when it comes to all things skylight related. We deliver skylights in Melbourne and neighbouring areas.