The appeal of having an outdoor living space is one of the reasons why having a patio became one of the most favoured features of new construction and home renovation projects alike. Installing patio skylights is the perfect way to elevate the design of this area of your home. Skylights bring in an abundant amount of natural light, which is most welcome in areas in your home where you spend time relaxing and unwinding.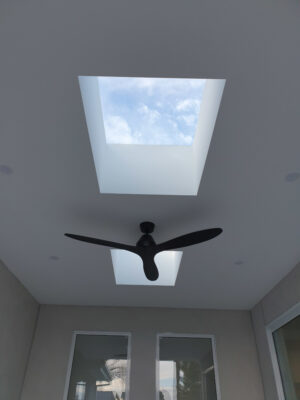 A covered patio serves as an extension of your living room space where you can entertain guests or spend some time lounging around. Adding skylights will transform even a simple patio into a cosy and relaxing area to unwind.
Enjoy your early morning breakfast while getting your daily dose of vitamin D, or go stargazing at night. Skylights are so versatile that they can be fitted with any patio design you have in mind. There are a wide variety of ways to integrate skylights with the design of your patio.
Whether you are going for a rustic vibe with a wooden ceiling or a minimalist patio with clean lines and an all-white tone, skylights will help enhance and illuminate your patio – making it the perfect place in your home to gather and chill.
Why Install Outdoor Patio Skylights?
Though it may seem useless, installing outdoor patio skylights is an aesthetically pleasing addition that also gives functional benefits such as:
Keeping it bright: The main benefit of skylights is that they allow an abundant amount of natural light inside. Skylights also substantially brighten covered patios, whether they are completely enclosed or wide open on the sides. The patio tends to get very dark, so choosing to have a covered patio with skylights is a good idea to keep your home bright.
Natural cooling system: Don't take ventilation for granted, even for outdoor spaces. Hot air rises and can get stuck under the roof – so having a proper ventilation passageway is essential. An outdoor patio roof with skylights (operable skylights) allows air to circulate to keep the outdoor lounge cool.
Aesthetic appeal: The possibilities are endless and the sky's the limit for an outdoor patio roof with skylights. The architectural appeal that skylights bring to properties is undeniable. They perfectly complement any interior design and really make your patio look bright and inviting.
Enhance adjoining areas: A patio is an extension of your home. How you design it will also affect the vibe of the other areas in your house. The abundant natural light that comes from the outdoor patio skylights also bleeds to the nearby areas, depending of course on where you position the skylights.
From a simple open space patio to a more modern covered patio, adding skylights will definitely enhance the look of your patio and uplift the look of your entire property, helping increase the resale value of your home as well.
Make your patio look more elegant and well-designed with skylights. It might seem like a minute detail to add, but you'll be surprised how drastically the appearance and feel of your patio will change when you install a skylight.
Search for an outdoor patio roof with skylights online and you'll definitely be inspired to get one for your patio. There's nothing like the natural light to make a space more inviting and transform a house into a home.
What are the Best Skylights For a Patio Roof?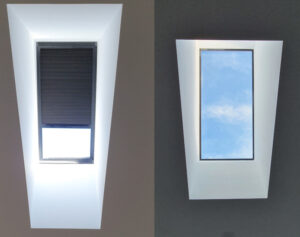 There are two main types of skylights – fixed skylights and operable skylights. Vivid Skylights carry premium fixed and operable skylights in four standard sizes. Fixed skylights, as the name suggests – are fixed and cannot be opened, while operable skylights can be opened either manually or with remote control to allow air to circulate in your home.
A fixed skylight for a patio roof is ideal for open space patios, while the operable models are best for an enclosed patio. Vivid Skylights carry operable skylights that can be opened using a remote control for your convenience. Let's face it – no one wants to reach the ceiling to open a skylight every time they want some ventilation.
Opt for skylights that are made from laminated glass (the same material used in car windshields) for added safety. Laminated glass panes are also more durable and can withstand harsh weather conditions. Choose between framed or frameless glass finish internally.
Purchase Patio Roof Skylights for Vivid Skylights
For premium patio roof skylights, contact Vivid Skylights. We are a supplier of high-quality skylights that can fit most residential homes. Our products have a 5-year warranty period to ensure that you are getting the best quality skylights when you order. We deliver skylights in Melbourne and neighbouring areas.
We've been in the business for several years now, so we have the experience and knowledge to answer all your queries. Check out our products and give us a call if you need further assistance.